A Movement 2013 Retrospective
|
Once again, Movement truly impressed.  This was the 7th straight year that our crew has spent dancing it up in Detroit over the Memorial Day weekend.  As always, we hit the festival (and after-party scene) pretty hard and caught some portion of at least 30 artist sets over 3 days.  While that may seem like a lot, it represents less than 25% of what was going down!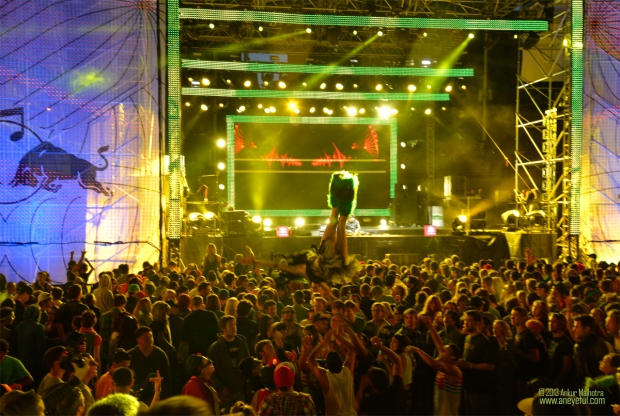 Paxahau, the producers of Movement, do a great job of providing offerings that satisfy a broad range of taste in EDM.  For my part – I really enjoyed the performances by
Audion, Buzz Goree, Cajmere, Daniel Bell, Dave Clarke, Nina Kraviz, Miguel Campbell, Masters at Work
(Kenny Dope & Louie Vega), and
Truncate
.  This was the first time that I saw each of these artists, and they were all mind-blowingly good.
And as usual, the sound and lighting systems were superb.
This year saw some re-arrangement of the stages with Beatport moving over to the riverside stage.  It was okay, I guess, but I confess to feeling nostalgic for the low and intimate Beatport stage of a few years ago.  That up-close experience can still found at the "Made in Detroit" stage, and indeed this is where I had some of my best times.
Buzz Goree with a mostly-vinyl in-the-rain set closing it on May 27 at the Made in Detroit stage

The Maetrik/Maceo Plex set from Beatport (in the rain)…

The weather could have been more cooperative.  Cool, but at least dry and sunny on Saturday and Sunday.  Monday's rain drove me back to the hotel before seeing the closing set by Kevin Saunderson and Derrick May.  I was just too wet and cold at that point. So that was a disappointment.
The after-parties were exceptionally good.  We caught the Dirtybird Players (specifically J.Phlip vs Kill Frenzy, Claude Von Stroke vs Justin Martin) at the Fillmore on Saturday, and 4am comes up real fast when you are having that much fun… I was still picking the feathers off me hours later.
On Sunday, we were at the Interface 42 – Scene 10 party at the Works, featuring Luke Slater and DJ Hyperactive, and both of these guys blew my socks off!
Seven years later, I'm still calling Movement (fka DEMF) the best festival in country and am already looking forward to my next return…  That is no small statement!   If you've not gone, we highly encourage it.