BIG THIEF W/ TWAIN – JULY 3, 2017 – HIGH NOON SALOON – MADISON,WI
|
Keep your eye out for Twain who is on tour opening for Big Thief, and who happens to have one of the fullest sounds for a one piece that I've heard in quite some time. He hits you with a hard dose of soulful lyrics over his interesting guitar chords in the vein of singer-song writers like Kurt Vile or possibly Neil Young.
Twain is similar to that crooner with a guitar that catches your ear as you pass by on the street of one of those hip musical cities like Austin or Memphis. The only difference is that he's commanding a full room of listeners and not just the few passersby. That's a huge accomplishment with only the use of his voice and guitar in these times of bass drops and short attention spans. People tend to look and move on, but not tonight.
His use of very melodic soft finger plucking mixed with a few bouts of mild chord thrashing is the perfect backdrop for his vocals that make the listening experience something like a twisted lullaby for life, living in it, and everything that comes with along with that ride… Keep your eye out for Twain.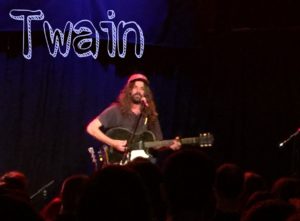 Standing in a packed room at the High Noon Saloon on a Monday night and it somehow seemed to keep filling up. My body was parked at the bar close to the stage waiting for Brooklyn, New York's Big Thief to take the stage. The crowd was bubbling over in anticipation as well. When they hit that stage they were instantly welcomed with cheers before a sound was even made by them. As they started to play it is apparent that this four piece band packs a punch, even when stripped down to only Adrianne Lenker's soft vocals and guitar.
From the first sounds of her lyrics that are laced with a hint of melancholy, everyone was instantly put into a trance and nodding their heads to every beautiful note. They mixed up the set by going back and forth between songs steeped in mellow hypnotic vocals and soft guitar with the slightest blend of country roots, moving to a mid tempo heavy driving beat with James Krivchenia's drums and Max Oleartchik's bass guitar. Mix in that touch of jangle guitar from Buck Meek to add a twist of that upbeat Indie Rock sound and the crowd was under the control of Big Thief.
Boasting that they were going to play every song they know (thirty something plus songs), Lenker jokingly suggested that people not feel obligated to stick around if they needed to "go eat something" or "maybe go tend to their children".  "Don't feel you have to stay, leave when you want… come back if you want. We are going to play for three hours, this is the first time we've done something like this", she giggled.
This is definitely a band that is on the rise, or should I say has been rising to critical acclaim, with the recent release of two albums, 2016's –Masterpiece and 2017's – Capacity.


I felt my phone ringing about twenty songs in. It was my daughter asking me when I'd be home. I responded with, "I'll see you in about ten minutes." I expressed that she would really enjoy the band, and that I wanted to share their music with her when I got home.
I looked around one last time and made my way out of the High Noon to the parking lot. Sadly I was leaving before the epic set ended, but I'm pretty confident Big Thief would approve.