Carolina Chocolate Drops: August 28, 2010 at the 45th Orton Park Festival
|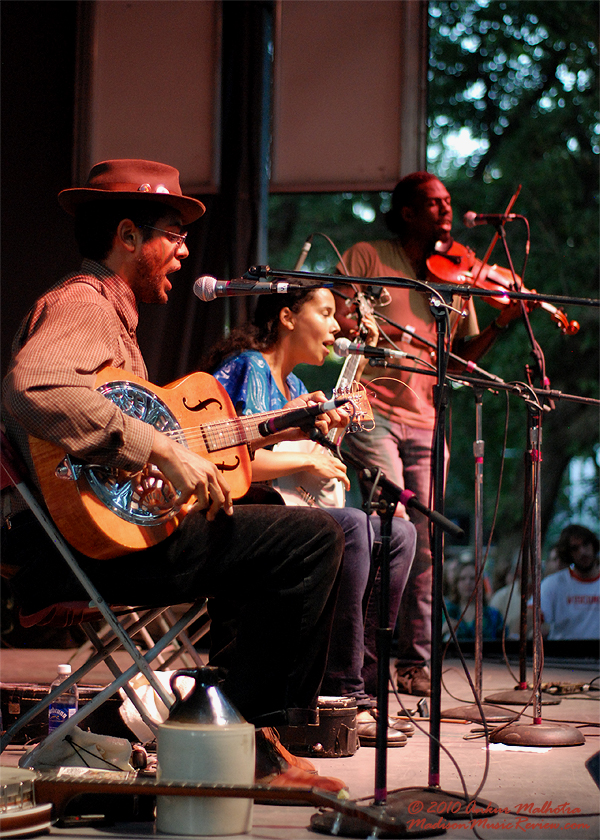 If you missed the The Carolina Chocolate Drops on Saturday last week you were not amongst the crowd of 8,000 or so people swarming Orton Park to get a glimpse, and a listen, to one of the last African American string bands in the country. The crowds were justified for the music and song that the trio of Rhiannon Giddens, Dom Flemons, and Justin Robinson delivered (or recreated, re-invented, re-imagined.. you get the drift) truly brought new life and immediacy to a musical tradition that goes back a century and more. With all of the musicians singing and trading instruments including the banjo, fiddle, guitar, harmonica, snare drum, bones, jug, and kazoo, it was a treat to see the band and the crowd get into it. We sure hope to see the band back in town soon. Meanwhile here are some pictures from the festival. And some tunes from the band (Cornbread and butterbeans plus a song with Alvin Youngblood) with a brief interview with Rhiannon on Friday, August 27th, 2010 on WORT 89.9 FM.
Carolina Chocolate Drops – songs and a brief interview with Rhiannon
Some pictures from the show….