HONDURAS W/ ACID DAD – SAT., APRIL 8, 2017 – THE FREQUENCY – MADISON, WI
|
Retro 70's style was on display at the Frequency Saturday, April 8th when Honduras and Acid Dad visited for a night of modern garage rock. Acid Dad kicked off their set with jangling space pop before evolving into the sort of driving minimalist guitar jams that you'd expect from The Strokes.  Straight-forward, thumping bass lines and locked-in drums kept the crowd on their feet and hopping (literally) while guitars chimed and buzzed.  The two guitarists traded lead vocals, adding some interesting color.
Honduras play in a similar style, but darker, with a goth edge adding some Wire and Nine  Inch Nails influences to their powerful blend of dirty guitars and pulsing rhythms.  Lead singer Pat Phillips is an interesting character.  Tall, thin, with an artfully tattered black shirt, he injects just enough venom into his vocals to give them a playfully biting sneer, but is able to step up when something more melodic is called for.
Local act Fin Zipper opened the night with a hard rocking funk, often reminiscent of late 70's Aerosmith.  They played slow and powerful with soulful vocals and heavy grooves balanced with a sort of Cheap Trick anti-style including pulled down baseball hats and goofy tongue wagging.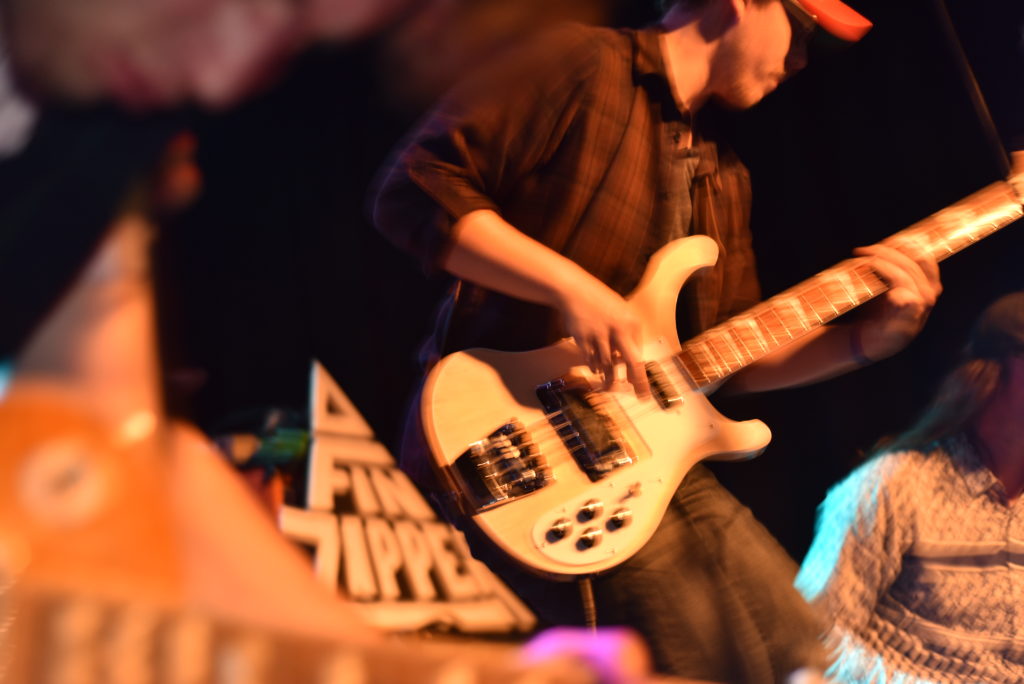 While the bands each brought their own tweaks, there was definitely a common tone to the evening's musical offerings.  Most noticeably between Acid Dad and Honduras, both Brooklyn bands currently on tour.  Perhaps most surprising was the steady danceable drive of the rhythm sections.  The room was filled with joyful college-aged folks who simply could not stand still and the enthusiasm was infectious. I was standing outside catching some fresh air between bands when I heard someone say "We need more rock shows like this!"  Agreed.
photos by Chad Ovshak