Interview with David Gans
|
I readily admit to being an old deadhead… I became obsessed with the Grateful Dead after my first show (6.26.1976), which was a deep musical revelation for me. It was the incredible Crazy Fingers>Stella Blue that got me. (Give it a listen!)
I got to see the band perform many times thereafter. But by the late 1980's, I had three young children at home and just didn't get out much. (Know how that is?) Luckily, I could still get a dose of great live Dead performances from the nationally syndicated weekly radio show – The Grateful Dead Hour – hosted by musician and author, David Gans.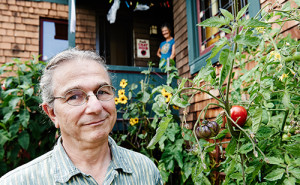 David recently visited Madison to perform at the Harmony Bar and promote his new album – It's a Hand-Me-Down – as well as his new book with Blair Jackson – This is All a Dream We Dreamed: An Oral History of the Grateful Dead.
I picked up a copy of the book at his show, and really enjoyed its format. I've read a handful of the books out there about the band, and This is All a Dream is now a favorite. Gans and Jackson use an "in their own words" format that made me feel like I was listening to a real interesting group conversation. The change in narrators was nicely paced and it was a really quick and fun read. I'll treasure my signed copy, and I recommend it to the readers out there. Pretty fascinating stuff.
I was delighted to chat with David when he was in town, and he graciously agreed to an interview with me.
[MMR] I hope you enjoyed your visit to Madison. How did you like playing at The Harmony?
[GANS] I had a great time at the Harmony Bar! Madison has always been a good stop for me, going back 15 years. Nice people, and they seem to love music.
I understand that Blair Jackson was your editor way back in the day. How did your collaboration on This Is All a Dream come about?
Blair and I have been friends for nearly 40 years now, and neighbors for more than 20. We share an agent, too. It was our agent, Sandy Choron, who first suggested an oral history.
There have been literally hundreds of books published about the Dead – including at least five by you and Blair. What inspired you two to write This Is All a Dream?
It actually began with other book projects that didn't end up in print. I had a contract to write another Dead-related book – a sort of annotated listening guide. The publisher of that book laid off my editor and sold my contract to another publisher, who declined to publish the book. I had most of it done, so we started to shop the project around. No one was interested in that one, but Bob Miller – who was the editor of my first book, Playing in the Band, and had just started a new imprint, Flatiron Books – told Sandy that he'd be interested in hearing if I had any other books in mind.
In the meantime, Blair had a book project abandoned by a publisher. So we were both "between projects," as it were. So our agent mentioned the oral history to Bob Miller, Bob said yes, and so off we went.
What do you think makes the Grateful Dead history and experience such a compelling story?
It is a huge and colorful tale, rising up in a magical time and continuing through massive cultural changes. It was an important cultural phenomenon and a valid musical phenomenon for many years; then it became a big-money story, too.
Your understanding of Deadhead culture would be hard to top. How would you explain the music and scene to someone that never experienced it?
I tend to focus on the music itself first and foremost. The Dead invented a form of music that combined a number of influences into something utterly unique.
You first saw the Grateful Dead perform in 1972. What made the Grateful Dead concert experience moving for you? How many times did you get to see the band before Jerry passed?
I stopped counting shows long ago. There are plenty of people who went to more shows than I did; I never went on tour. When I was young enough and untethered enough to do that, I wasn't even aware that it was an option. And by the mid-'70s, I was committed to my own work as a musician and writer, so following the Dead around all summer wasn't an option.
What was your most memorable show experience? Favorite venue?
The San Francisco Bay Area had several of the Dead's best venues: The Frost Amphitheater (Stanford University), the Greek Theater (UC Berkeley), Winterland, and later the Oakland Auditorium. I enjoyed the convenience of seeing shows a short distance from my home. I suppose the Greek is my favorite venue, but Frost was equally wonderful.
I've gotten the impression that Garcia eventually felt trapped by the scene and the touring grind. Your association with the Dead most certainly opens up opportunities for you musically. But do you ever feel that your music career is similarly constrained by this association?
I have sometimes felt that it's hard to gain recognition as a musician after years of being known as a radio host and writer. But I've been touring for 15+ years now and there are lots of people who know me primarily for that, so I don't worry about it so much any more.
This quote in your book by Garcia (from 1970!) really struck me:
"A long time ago, our role was…we were sort of incidental music at the celebration of life. Which was super cool. Now, however, we're in the position of being rock and roll stars, which is not anywhere near so cool and takes a lot more from you in the sense of…well, you get in a very weird place. You're playing music, you're up, you're excited, you're on, you leave the stage…and there's a backstage full of drifting shadow forms and peculiar show-biz vampires. I've never been competent to deal with that to my own satisfaction."
Did you spend much time backstage? What was your experience of this scene?
I was pretty deeply enmeshed in the Dead scene in the early '80s, hanging out with Weir and Lesh for the most part. There was indeed a lot of weird stuff all around – but I think that is to be expected with a band those music and culture were built on psychedelics. And any popular institution – musical or otherwise – is going to deal with a ton of social climbing, circles of influence, territorial behavior, insecurity manifesting as xenophobia, etc.
Over time, I grew less interested in being backstage and chose to attend shows in the audience where I could focus on the music. And by the late '80s, when the Grateful Dead Hour was my full-time job, I sort of retreated from the "scene" to concentrate on my work/
You've been hosting the nationally syndicated Grateful Dead Hour radio show since 1985. How excited were you to get access to the famed vault of show recordings? How did you choose where to begin?
I started out with a short list of shows I had attended, most notably 5/19/74 because all I had ever heard was a very primitive audience recording. Shortly after I started doing this, Dick Latvala was appointed to manage the archive. We would wait til the band went on the road and then get together with a bunch of recording gear, checking stuff out. He had great ideas and an endless list of shows to recommend.
How do you access recordings for your show these days?
I am still working on a huge stash of recordings I made during the years I had direct access to the vault. I get a lot of material from the amazing Charlie Miller, and various other people have supplied material. It's hard to find things that haven't been circulated in one form or another, but that's not really the most important thing anyway.
What's next on the agenda for David Gans?
No plans to write another book any time soon. I am concentrating on my own music and having a blast! n addition to that full-time job, I've got two national radio shows – The Grateful Dead Hour and SiriusXM's Tales from the Golden Road. It all fits together nicely, and I manage to get the mortgage paid somehow.