Interview with The Black Angels' Christian Bland
|
The Black Angels are (psychedelic rock) from Austin, Texas. which formed in May 2004. Their name derives from the Velvet Underground song "The Black Angel's Death Song". They have played at Lollapalooza, SXSW (2006 & 2008) and All Tomorrow's Parties (2008). Their Touring partners have included the The Black Keys and Black Rebel Motorcycle Club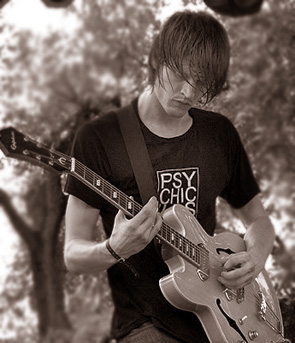 and now The Warlocks.
I was fortunate to get a few questions over to guitarist Christian Bland about the Tour, writing on the road and how they came up with title of the their latest release.
FS: First off, let me just say I have really been enjoying Directions to See a Ghost and we are looking forward to checking out your live show. Tell us about touring this time around? How has it been with touring The Warlocks so far?
CB: Touring with The Warlocks is surreal. Without The Warlocks there would be no Black Angels. It's amazing to to get to tour with a band who has had such an influence on us.
FS: How do you guys find the time to write while you are on the road?
CB: There's so much time where we're just sitting around waiting (for someone at the venue to arrive, for sound check, etc), so its pretty easy to go off and find a corner and start strumming a guitar and come up with new tunes. Its the best way to get lost and take off to another dimension, because sitting in the van for hours can take its toll.
FS: Tell us about the title of your latest release and how you arrived at this name?
CB: Most people have a hard time believing in ghosts…alot of people have a hard time believing in the Truth…so we are providing Directions to See a Ghost, because ghosts exist just like the Lies we are told and the Truth which can be found. We hope to encourage people to re think their preconceived notions, question authority, and create alternative methods for survival.
FS: How did the recording process differ on Directions to See a Ghost vs. Passover?
CB: Well, we recorded with Erik Wofford again at the same studio as Passover. The only difference was that on this album we switched up instruments whereas on Passover we pretty much stuck to our 'main' instrument. I think switching instruments allowed for more experimentation, and it helped to generate a different sound than on the first album.
The Black Angels will be performing at The Annex on June 19th @ 9:00 PM with The Warlocks / $12. Be sure to check them out.