JUSTICE TOUR w/ TOM MORELLO, TIM McILRATH, WAYNE KRAMER – Mon., September 5, 2011 – Barrymore Theatre
|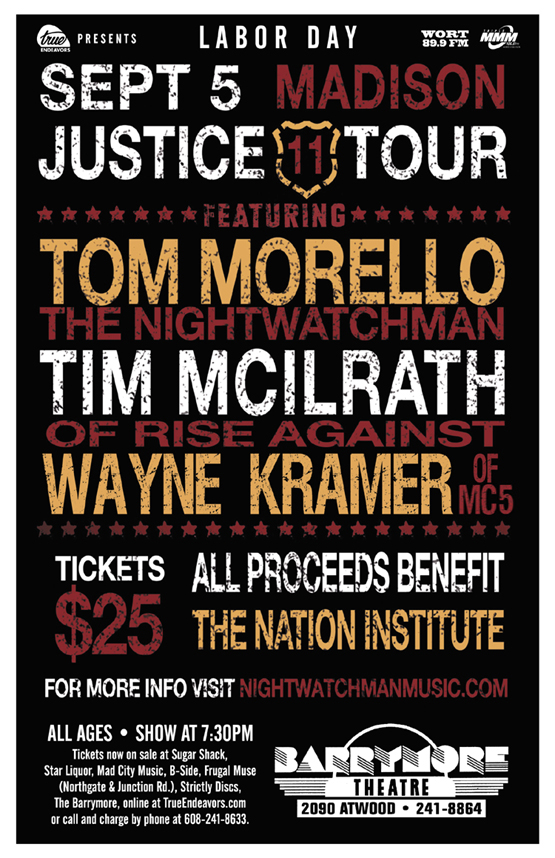 Event Details:

JUSTICE TOUR w/ TOM MORELLO, TIM McILRATH, WAYNE KRAMER

When

Monday, September 5, 2011

Where

2090 Atwood Avenue
Madison, WI 53703

Other Info

Tom Morello of Rage Against The Machine, Tim McIlrath of Rise Against, and Wayne Kramer of MC5 get together for The Justice Tour, in town for one night on Monday, Sept. 5th at the Barrymore.

Back in February, Tom was the first artist to come to Madison and support the efforts of labor and progressive politics. The show is a great opportunity to celebrate what we've accomplished so far, and to get recharged for the fight that remains. Additionally, the show is a benefit for The Nation Institute (www.nationinstitute.org), a nonprofit media center, established to extend the reach of progressive ideas and strengthen the independent press. This is in keeping with Tom's belief that our battle must involve media reform and making certain our message is getting out to the masses.