KAMASI WASHINGTON – Wed., November 8, 2017 – The Majestic Theatre – Madison, WI
|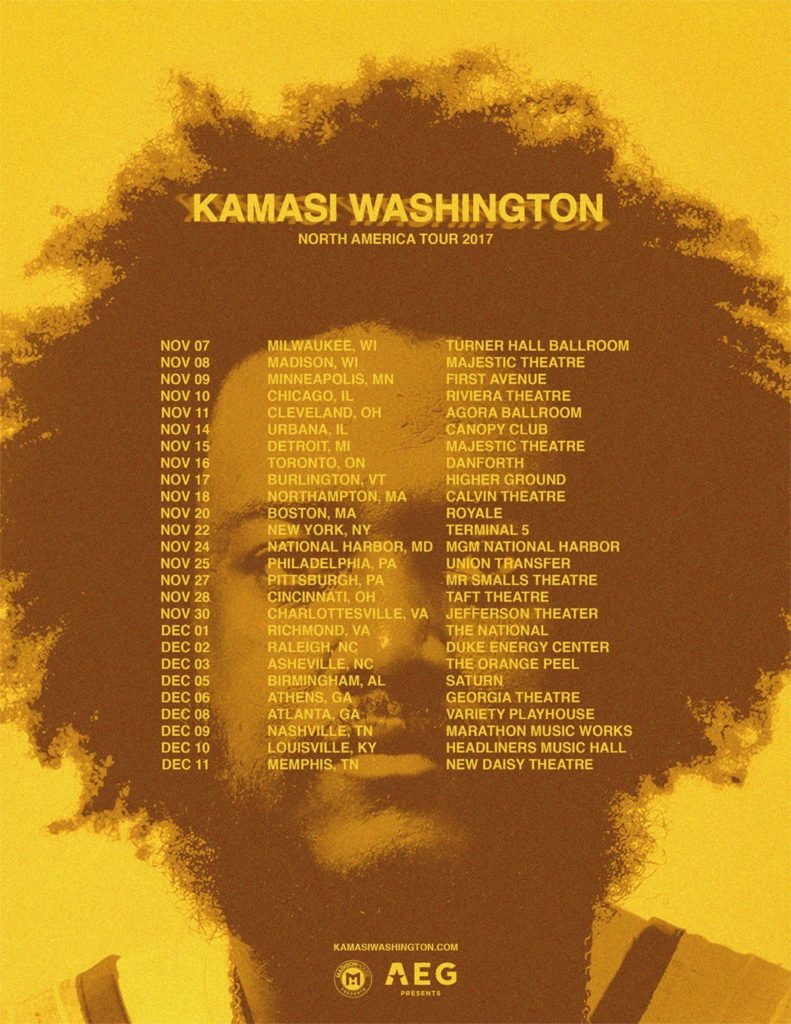 Event Details:

KAMASI WASHINGTON

When

Wednesday, November 8, 2017

Where

115 King Street
Madison, WI 53703

Other Info

Kamasi Washington is an American jazz saxophonist, composer, producer, and bandleader. Washington is known mainly for playing tenor saxophone.
At the age of 13, Kamasi Washington started a lifelong quest discovering the many wonders of music. One night, his father left his soprano saxophone lying on the piano. Kamasi, filled with curiosity for all the beauty he heard from the instrument, picked up his father's horn. Even though he didn't know anything about the saxophone – in fact, never even touched one – he played Wayne Shorter's composition "Sleeping Dancer Sleep On," his favorite song at the time.

At the prestigious Hamilton High School Music Academy, within two years, Kamasi earned the lead tenor saxophone chair in the top jazz ensemble. At the same time, Kamasi joined the Multi School Jazz Band (MSJB) where he reunited with several childhood friends who were pursuing their passion for music. During his senior year of high school, Kamasi formed his first band, "The Young Jazz Giants," with childhood friends including Ronald Bruner, Stephen Bruner and Cameron Graves. After high school, Kamasi received a full scholarship to study ethnomusicology at UCLA, where he explored many of the non-western musical cultures around the world. During the summer after his freshman year, Kamasi recorded his first album with "The Young Jazz Giants" to spread new sounds of jazz all around the country. In his second year at UCLA, Kamasi went on his first national tour with the west coast hip-hop legend Snoop Dogg. Later that year, Kamasi joined the orchestra of one of his biggest heroes, Gerald Wilson, and later went on his first international tour with R&B legend Raphael Saadiq.