Khaira Arby – Sat., September 25, 2010 – Wisconsin Union Theater
|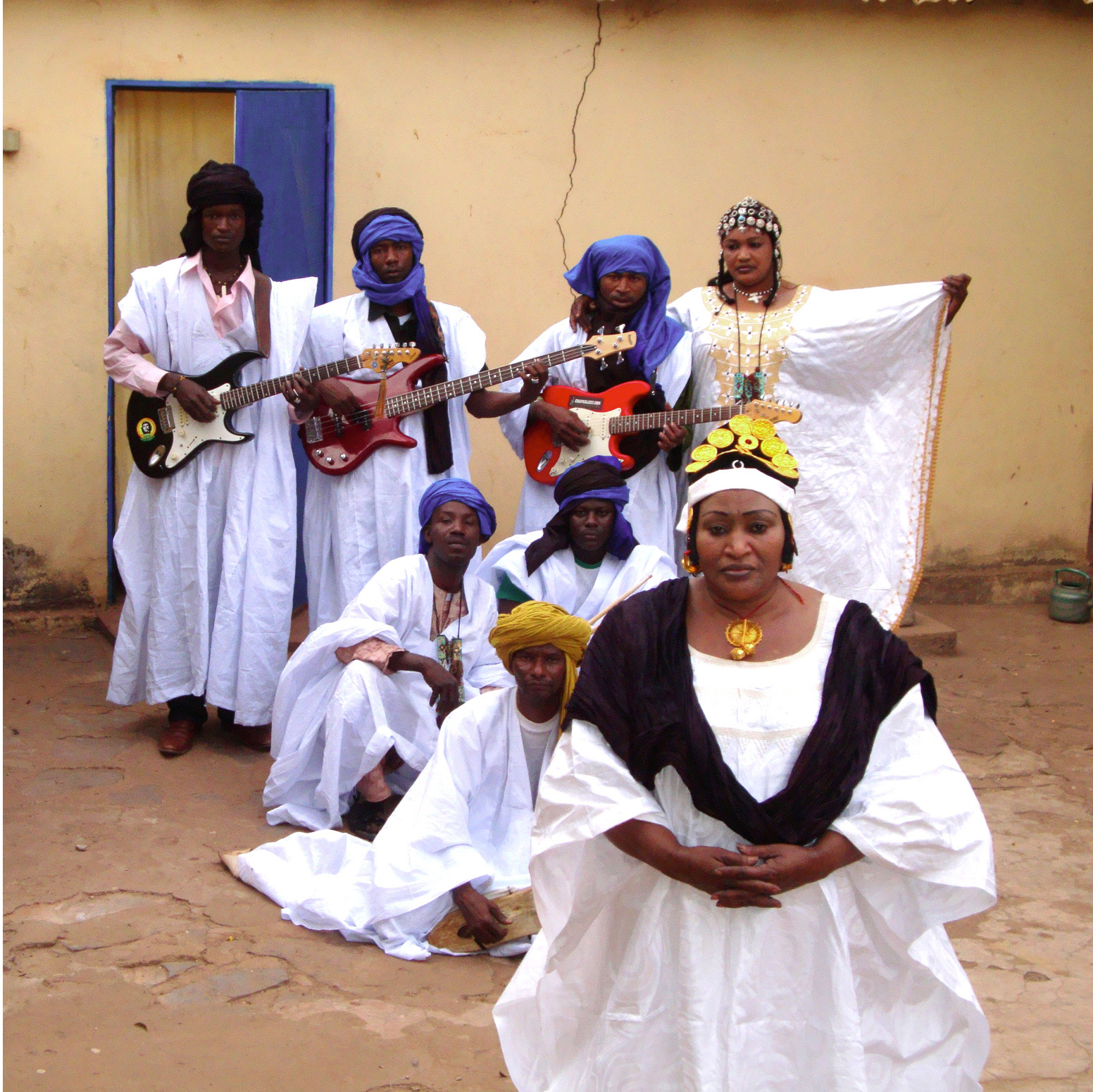 Desert Defiance and Womanly Power: Malian Diva Khaira Arby Invokes the Mystery, History, and Heart of Timbuktu
For women, singing can be the road to personal power. When their voice is as strong as Malian vocalist Khaira Arby's, that power can move mountains, change minds, and win battles.
Arby's rich, potent sound aims to do just that on Timbuktu Tarab (Clermont Music; August 10, 2010), shifting seamlessly between the edgy and progressive and the traditional and deeply rooted. Inspired by her cousin Ali Farka Toure, Arby turns to her mixed Berber and Sonrhai roots and draws on a sweet mixture of desert blues and recording sophistication, blending ripping electric guitar with the forefather of the banjo and funky drum breaks with the traditional percussion of the scraper and the calabash.
Though very much her own woman, Arby, born in a village not far from the famed city of Timbutku, is firmly planted in the desert sand. Her creativity flows in part from the people of her home region of Northern Mali—the young musicians in her band all hail from Timbuktu—and from their past and present struggles. As Arby puts it, "Trab is our land, our home, Timbuktu. Its history, its mystery, everything."
And this history runs deep through Arby's music. "Djaba" is a song about a legendary ancestral Tamashek warrior; it is also an authentic dance in Timbuktu. By reframing and reinterpreting the tale, Arby hopes to not only retell this important story, but also keep the dance alive among younger generations. "Sourgou" recounts the Tamasheks' struggle against colonial domination, while "Youba" recounts struggles of a more contemporary sort, praising the brave return of salt mine workers by moonlight.
Arby has taken up—and updated—one important role of African women in traditional societies: praise singing. This means bluesy homage to the prophet Mohammed ("Salou") or to good friends. "Dja Cheickna" praises a beautiful friend of Arby's from a good family: "May Dja Cheickna live a good life." The song bursts with funky high-hat, sizzling bass and guitar, and Arby's stunning yodeling, as age-old hand-clapping rhythms entwine with crunchy distorted guitar.
Yet despite deep roots, Arby has long gone her own way, turning the bright compliments and veiled metaphors of traditional female praise and critique into hard-edged calls for change and justice. Her own life, discouraged by relatives who did not approve of her public performances, has honed this message. And like Miriam Makeba and other African divas before her, Arby embraces her power through words.
Arby's composition process maximizes this and begins with the words themselves, drawing on a theme and developing lyrics from there. For her, the melody, rhythm and accompaniment all come later, highlighting the importance of music as social criticism to her fellow Malians. While she draws on the four languages of her heritage, the true impact of words bursts forth in her strong vocal delivery.
Arby addresses issues both painful and controversial, yet with a profound sense of heart and personal connection. In "Wayidou," she pleads for the better treatment of women in Mali in general, "Happiness for women is gone. In these times we cannot speak of happiness and light. Why in a country of beautiful women do men go to war?"
In "Feryene," she speaks out against female circumcision, which has hurt or killed many young Malian women, and continues to be a common practice. "Female excision has caused much suffering and much human loss. I am making people aware so that it ends and so that all Mali fights against it. As a mother I am making my contribution to that effort."
Khaira Arby, singing out and speaking out, has still become a darling of the Malian scene, as she captures the modern buzz of Timbuktu and the lilting pace of the desert sands, a world of movement and flow.
Yet her mind is always on the hope and struggle that guides her songs: "I dream of a recording studio and cultural center in Timbuktu for young talent, and I want to struggle against war, sickness, and poverty by recording albums in all the languages I can. I want to teach the daughters of the world, teach them to think, to value themselves, to sing."
Event Details:

Khaira Arby

When

Saturday, September 25, 2010

7:00pm

-

...more to come

-

All Ages

Where

800 Langdon Street
Madison, WI 53706




Other Info

The Malian singer, known as the Nightingale of the North, has just begun her very first North American tour and is already turning heads and blowing audiences away. With coverage on NPR, PRI and AOL - this tour and the album it's supporting,

Timbuk Tarab

, are already making waves far beyond the world music scene.

View our online press kit for Khaira Arby, Timbuktu Tarab (Clermont Music) Desert Defiance and Womanly Power: Malian Diva Khaira Arby Invokes the Mystery, History, and Heart of Timbuktu

For women, singing can be the road to personal power. When their voice is as strong as Malian vocalist

Khaira Arby's

, that power can move mountains, change minds, and win battles.

More Infomation: