Kid Koala @ Musique Electronique
|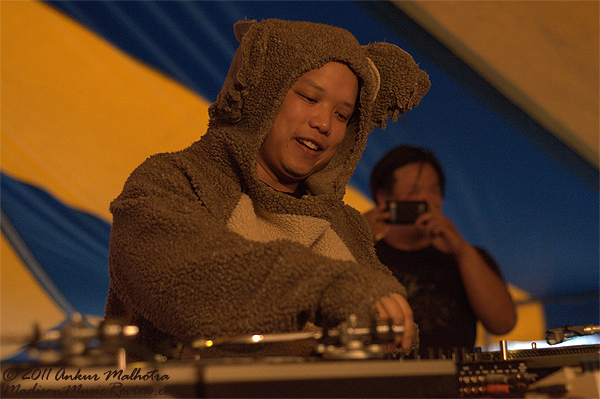 One of the highlights of the La Fete weekend, and for this year, was watching Kid Koala's not one but two great sets as part of the Friday night lineup for Musique Electronique at La Fete De Marquette. It's fun to listen to a Kid Koala record, more fun to see a video of him scratching, but a truly mesmerizing experience to see him perform live. And a performance it is! It is not often that you see a grown man wearing a Koala suit throwing down a bunch of records on stage, but 37 year old Eric San is not one to back off from a bet, even if the losing end meant playing 100 shows wearing a warm and fuzzy koala suit. Cute and cuddly the suit may look but it works more like a sauna, as you have a bear that smiles and dances as it scratches its way through the tasty treats stacked up on the decks. Kid Koala's genuinely warm and friendly personality comes across in his on-stage banter with the crowd (see videos below), and the selections he played at the festival had the all ages crowd lapping it up… everything from raging guitar riffs, to old school hip hop, to some Louis Armstrong (the always fun to listen to Drunk Trumpet) and the classic Moon River from Breakfast at Tiffany's.
Here's some video and pictures from the epic show in Madison!
Video1: a 12 minute piece that captures the excitement and mood in the tent at Musique Electronique. The video also includes Drunk Trumpet.

Video2: Kid Koala reinterprets Moon River

Pictures from Musique Electronique and the High Noon Saloon after-party: