Laura Veirs & The Hall of Flames
|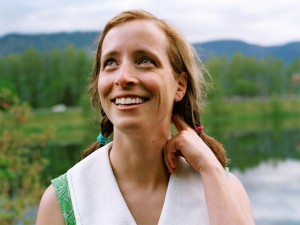 I've fantasized for some time about seeing Laura Veirs perform in Madison.  And as you probably know, the Freq offers the most intimate stage in Madison.  So I'm really looking forward to this show.
Laura Veirs is an interesting composer, with a unique voice, and a deep introspective quality to her lyrics.  Her 2005 album – Year of Meteors – was one of my favorite albums that year; very much recommended listening.
She will be releasing her new album – July Flame –  in January 2010 on her own record label, Raven Marching Band Records.  This album is her sixth release produced by the fantastic Tucker Martine (who has also produced Bill Frisell, The Decemberists, Sufjan Stevens, Erin McKeown and Jesse Sykes).
"July Flame, which Colin Meloy calls 'the best album of 2010,' explores the emotion of mid-summer. Drenched in wood smoke, sunlight, pollinators, pastoral dales, fireworks and warm nights, her lyrics explore the dichotomy between one's desire for permanence and security and the realization that such things rarely exist."
Jim James of My Morning Jacket (who performs on the record) says of the album "Laura's like the queen bee and my ear is her hive; she nests and makes honey in the hairs of my cochlea."
I suggest you check it out.
– Mister Bill
Event Details:

Laura Veirs & The Hall of Flames

When

Sunday, February 28, 2010

Where

121 West Main Street
Madison, WI 53703




Other Info

with Old Believers / Cataldo