MAJOR LAZER – Tue., March 19, 2013 – The Majestic Theatre
|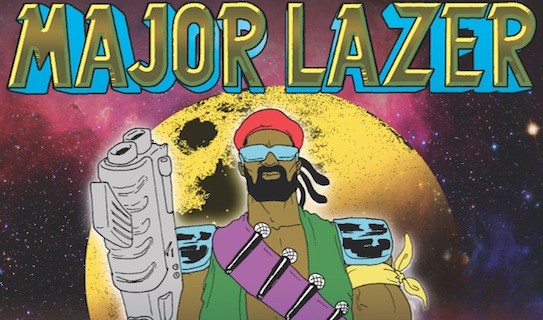 Event Details:

MAJOR LAZER

When

Tuesday, March 19, 2013

Where

115 King Street
Madison, WI 53703

Other Info

Years after the zombie apocalypse ravaged the galaxy, Major Lazer went into isolation after bringing peace and order to Earth. With the help of a mysterious shadow government called Cinco he was cryogenically frozen as a safeguard for the future's wellbeing. Despite a great many years of pursuing peace on the planet, a new threat began to loom on the horizon and the commando was brought out of sleep by the Committee of Five. This intergalactic group faced an opponent that only Major Lazer could defend against: his former superior and commander General Rubbish. Rubbish had come out of deep space hiding with a new weapon…Terror Lazor and was set out to enslave and capture all of Earth's allies to seize inter-galactic planetary control and then destroy Earth. With dwindling resources to defend Earth and it's allies, the Committee of Five brought Major Lazer out of cryogenic slumber. He was assigned a partner, the female assassin known only as Knife Fight. Together they set out to FREE THE UNIVERSE, beginning on the fortuitous date of February 19th, 2013.

Diplo (AKA Wesley Pentz) has risen through the ranks and has asserted himself as one of the most pioneering producers of the time. Through unending curiosity and exploration of the vast multitudes of the world's musical heritages, Diplo has managed to seamlessly connect the global underground to the audio mainstream. He is the Grammy-nominated founder, owner and head honcho of Mad Decent records, which has not only garnered widespread critical and audience accolades since its inception, but has also deservedly earned a hefty reputation as a vanguard of groundbreaking releases. As Major Lazer, he recently retreated to Jamaica to team up with producers Ariel Rechtshaid and Dre Skull on the upcoming Snoop Dogg album Snoop Lion "Reincarnated". Major Lazer was also featured on the title track from No Doubt's latest comeback album with famed dancehall artist Busy Signal and released an official remix for Hot Chip's "Look At Where We Are".