Mission Of Burma w/ Surfer Blood + Turbo Fruits – Fri., April 9, 2010 – High Noon Saloon
|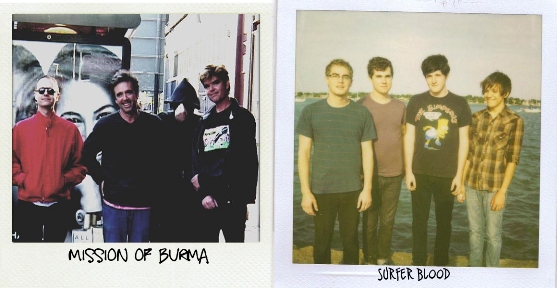 Event Details:

Mission Of Burma w/ Surfer Blood + Turbo Fruits

When

Friday, April 9, 2010

Where

701 East Washington Avenue
Madison, WI 53703-2958

Madison, WI

Other Info

Mission of Burma is an American post-punk band formed in Boston, Massachusetts in 1979. The band was formed by Roger Miller (guitar), Clint Conley (bass), Peter Prescott (drums) and Martin Swope (tape manipulator/sound engineer). Miller, Conley and Prescott share singing and songwriting duties. Like many of their post-punk contemporaries, Mission of Burma's efforts are largely concerned with extending punk's original vocabulary without losing its essential rebellious spirit. Using rapid shifts in dynamics, unconventional time signatures and chord progressions along with tape effects, Mission of Burma challenges the prevailing idioms of punk while attempting to retain its power and immediacy.

"On their third stellar album after a nearly two-decade hiatus, the Boston art punks unleash more thoughtful brutality, with harried voices, slashing guitars, and rattling drums converting innocent pop tunes into primal catharsis." - Spin Magazine

About Surfer Blood: When you think of Palm Beach, Florida, what comes to mind? Palm trees swaying gently in the balmy breeze? Scantily-clad bikini buxom babes rollerblading down an infinite slab of coral-colored concrete? How about anthemic, bombastic, life-affirming indie pop? If the latter didn't occur to you, let us introduce you to Surfer Blood: they call West Palm Beach home and, while still in their early 20s, have penned an album worth of catchy, summery indie songs that even the most hook-laden power pop band would rightfully be jealous of...

The Southern-fried punk project of guitarist/vocalist Jonas Stein, Turbo Fruits formed while Stein was still in the band Be Your Own Pet. The earliest version of Turbo Fruits also included Be Your Own Pet drummer John Eatherly; the duo added bassist Max Peebles for its self-titled debut, which was released in 2006 in the U.K. and the following year in the U.S. via Thurston Moore's Ecstatic Peace! label. Stein continued the band after Be Your Own Pet folded in 2008, adding bassist Wes Traylor and drummer Zack Martin for Turbo Fruits' second album, Echo Kid, which was released in fall 2009 on Fat Possum.