MOVEMENT 2011 – Sun., May 29, 2011 – MOVEMENT @ Hart Plaza
|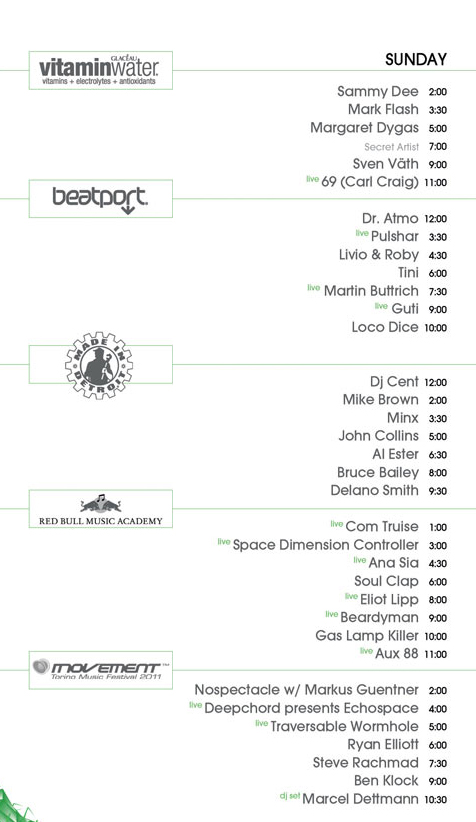 Event Details:

MOVEMENT 2011

When

Sunday, May 29, 2011

Where

MOVEMENT @ Hart Plaza (

map

)

Hart Plaza, Downtown Detroit
Detroit, MI, USA

Hart Plaza in downtown Detroit has been the home to MOVEMENT or the Detroit Electronic Music Festival, perhaps the best electronic music experience you can have on the planet. Held every year on Memorial Day weekend (last weekend of May) and featuring non-stop grooves on multiple stages Saturday - Monday, noon - midnight. Be there!

Other Info

105 acts at the Festival itself! And after parties to die for... with festival tickets currently going at $60 (presales), this is possibly the most affordable festivals around... and what a line-up. The festival organizers, Paxahau, have again put together a stellar lineup for this year:

69 (Carl Craig) – live
Adam Beyer
Al Ester
Ambivalent
Ana Sia
Anthony Attalla
Aril Brikha - live
Art Department
Ataxia - live
Aux 88 - live
B. Bravo - live
Beardyman – live
Ben Klock
Boo Williams
Brian "Starski" Gillespie
Bruce Bailey
Calvertron and Figure
Chuck Daniels
Cio D'or
Clark Warner
Claude Young
Com Truise - live
Dabura
Daedalus - live
Dam-Funk & Master Blazter – live
Delano Smith
Deniz Kurtel - live
District 909 - live
DJ Cent
DJ Godfather
DJ Harvey
DJ T-1000
DJ Three
DJ X-Change
Dr. Atmo
DTM 5x5 (DJ Seoul, T.Linder, Neil V, Darkcube, DJ Psycho)
Dubfire
Echospace – live
Elliot Lipp – live
Eric Johnson
Erika Sherman
Fatboy Slim
Felix Da Housecat
Flying Lotus - live
Franki Juncaj aka DJ 3000
Gaiser - live
Gaslamp Killer
Glenn Underground
Goldie
Green Velvet – live
Guti - live
Heartthrob - live
Hudson Mohawke – live
James Zabiela
John Collins
JPLS - live
Justin Martin
Kero – live
Kerri Chandler
Little Dragon - live
Livio & Roby
Loco Dice
Marc Houle - live
Marcel Dettman
Margaret Dygas
Mark Flash
Martin Buttrich – live
Matt Clarke
Matthew Hawtin
Metro Area
Michael Geiger
Mike Brown
Mike Servito
Mimosa
Minx
Monolake - live
N-Ter - live
Nospectacle with Markus Guentner - live
Paranormal Tek
Paul Kalkbrenner - live
Pulshar - live
Ramadanman
Reference
Richard Devine - live
Richie Hawtin
Ryan Elliott
Sammy Dee
Scuba
Secrets - live
Shlomi Aber
Skrillex – live
Soul Clap
Space Dimension Controller - live
Space Time Continuum - live
Steve Rachmad
Sven Väth
Terrence Parker
The Dirtbombs – live
The Siege – live
Tini
Tortured Soul - live
Traversable Wormhole aka Adam X - live
Venetian Snares - live
Victor Calderone
Visionquest – live/DJ

Discounted presale weekend passes are available at $60 for the three-day music marathon in Detroit's Hart Plaza, May 28-30, 2011.

VIP passes to Movement are now available for just $150. With these passes festival-goers receive access to the following:
● Private check-in area to receive your credentials
● Access to large area above and behind the main stage
● Private bar - 6 complimentary drink tickets
● Discounted drinks available at the VIP bar
● Deluxe private executive bathroom trailers
● Voucher good for 1 Official Movement T-shirt (While Supplies Last)
● Discounted hotel rooms at the Westin Book Cadillac are available for purchase by VIP ticket holders.

To purchase passes visit the online ticket store at www.Paxahau.com/festival.

facebook.com/movementdetroit
twitter.com/paxahau

About the Electronic Music Festival in Detroit
Paxahau's Electronic Music Festival, Movement, is an internationally recognized music marathon that delivers three days and three nights of non-stop performances from more than 100 artists across five stages set in an outdoor plaza located along the Detroit River. Headlining talent from around the world performs alongside legendary hometown heroes as thousands of festival-goers dance to the music, and then keep the celebrations going at a full roster of epic after parties. Nearly 100,000 people from across the globe attended the festival in 2010.