Movement After Parties Preview
|
Movement is coming up fast. The lineup at the festival is, as expected, full of skill, depth, and incredible beats from stage to stage. As the final beats of the night echo across the skyline, the after parties keep the energy flowing throughout the city. While it may seem daunting to choose which stage to visit during the day, the mad variety of talent offered throughout the city is the true challenge.
While there are plenty of pre-parties to build the hype, these are two of my top after-party picks with more to come.
Saturday: Detroit Love @ Magic Stick 4120 Woodward Ave, Detroit

I love this venue and you will, too. A big, dark, deep main floor with huge, clear sound and minimal, effective lighting. I'll never forget the vibe created by Nina Kraviz and Robert Hood in this room in 2015, with big bass indoors and a vibey patio giving that needed breathe of fresh air. But the party this year is going to be special.
This is the first venue I looked to when I started scoping out parties. And what did I find? Here comes Carl Craig and Moodymann, two innovators with a deeply different style and ridiculous talent behind the decks. While I seem to catch a Craig set every year or two, Moodymann has been an elusive target. Some of my most coveted purchases ever include my Moodymann records. He is eclectic yet classic, deep yet broad. And when he rips into a set, it feels like a myth is being crafted in front of your eyes.
And after all that, after the classic aesthetic and dubbed out house keeps your feet flirting with the floor, in comes Carl Craig, the man himself. If you're in Detroit, you can almost feel Craig's vibe oozing through the pavement. He's a legend for a reason and his beats have built this city and defined a sound that has taken over the world. If you're in Detroit, you are in Craig's vibe.
The headliners are the real deal and the supporting talent will deliver. Andres, Wajeed, and Al Ester will keep it flowing inside and out.
https://www.facebook.com/detroitloveofficial/
Sunday: OK Cool! 5th Birthday Party @ TV Lounge 2458 Grand River Ave, Detroit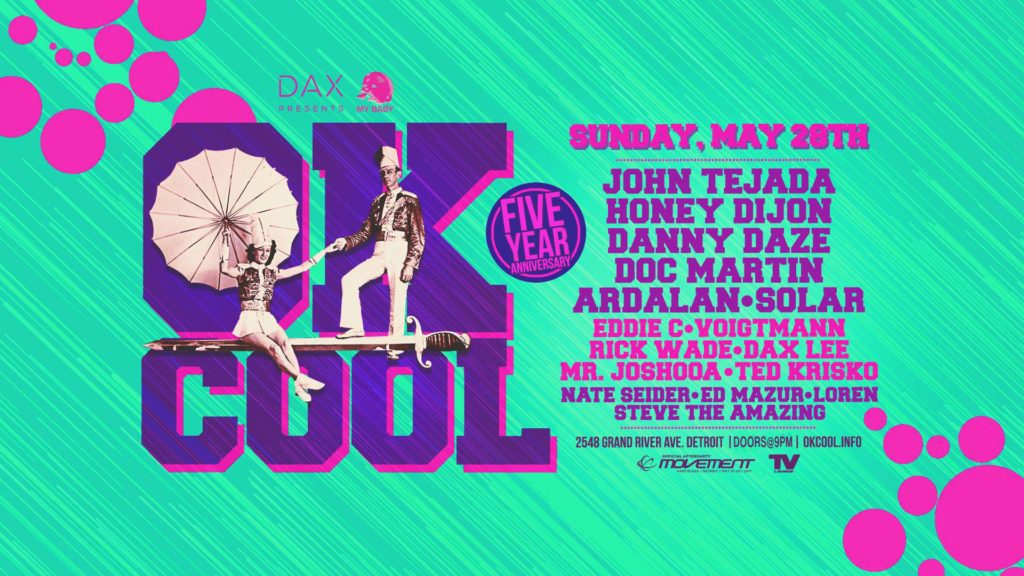 This is going to be one for the record books. In a classic venue with three areas for music, including two outdoor stages and an incredible lineup of OK Cool veterans along with massive new talent, OK Cool! is bringing out all the stops for this birthday extravaganza.
John Tejada is supplying an exclusive set in Detroit with his mix of minimal, stompy grooves while the one and only Honey Dijon brings her sultry tech soul sounds for her first appearance at the legendary TV Lounge. And I haven't even mentioned the legendary Doc Martin and the percussive tweak goodness of Ardalan.
To dig this in deeper and make it a momentous experience, Steve the Amazing will be returning to deliver the real magic. And by that I mean actual magic. This event has always been about great vibes without the pretense. It's been about delivering the good till the dawns early night. And this event will be one to remember as your shoes get the workout they so desperately need.
https://www.facebook.com/events/449814218689283/