Movement, Day 1: Postcard from the Edge
|
Day 1: Movement
There's always a surprise around every corner, even the corner you just turned. The people, the beats, the skyline all paint a portrait of depth and soul. We got here early today, as the echo of sound checks reverberated towards Ontario. Mr Bill and I made our way around, getting the lay of land, and enjoying a $10 shot of vodka in some watery lemonade.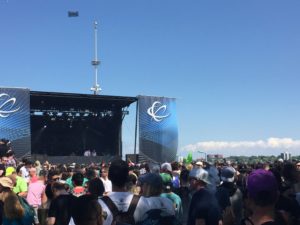 We moved to the Pyramid Stage just as Golf Clap took the stage to start it off with a two-hour set they were filming for a music video. The weather was perfect and the crowd built steadily as a torrent of inflated golf balls bounced to the beat We wandered by Star Gate stage to catch the minimalistic beats of DJ Deep before heading Underground to catch a few minutes of Alstadt Echo before finding Alton Miller going soulful, Gospel, and classic on the Made in Detroit Stage. We had been on the grounds for less than two hours and we'd already heard the flavor filling this incredible venue. We already had the taste.
After a short break to get all set for a marathon of a night, Mr Bill and I headed back to the fest for what looked to be night of impeccable techno in the heart of Motor City. After catching a few minutes of the legendary Josh Wink, who will be headlining Even Further in northern Wisconsin later this summer, we headed underground to get our dark beats delivered first by The Headless Horsemen, who was a decadent surprise of gritty, huge bass and aggressive mixing. We got ourselves to a great spot on the throbbing floor in time to see AX&P (aka Adam X and Perc).
Both Bill and I were pumped for this set. Adam is a techno legend and Perc has been on a roll. Immediately the sound was dark, gritty, and huge. The problem was the pair was not as rehearsed as you'd like, with a few key mixes faltering and hitting off beat just a few too many times.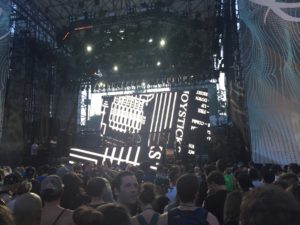 There was a similar situation about to hit the main stage. The Belleville Three has three innovators who helped craft techno in the heart of this very city (Kevin Saunderson, Juan Atkins, and Derrick May). We were immediately impressed with the quality of each track. This set felt like a legend in the making, with full knowledge that I may never see these three men perform together again. There was also the odd experience of having two kids tripping hard and forgetting I was an actual person and instead treating me as a wall they could lean against to take a load off. It's weird to see yourself disappear from people's view, only to be replace in their minds as a wall. But I digress…
We flipped by Stacy Pullen long enough to be reminded why he is one of the finest purveyors of deep, funky techno to ever exist. His skill and selection was remarkable and the overflow crowd was deeply under his control. We headed over to chill at the Beirgarten to listen to Ben Klock offer his minimal, banging techno goodness. We then decided to hit the Pyramid Stage hard, working our way through the packed crowd as Pan-Pot delved into deep, subtle acidic beats. They had a fantastic set as Mr Bill, with his incredible dance floor skills, got us into position for the final act of the night.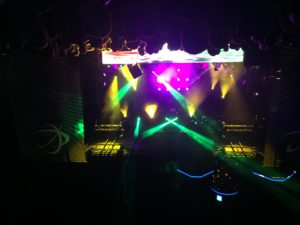 Richie Hawtin was on the main stage, pulling some of the crowd and giving us a bit more room to dance. And then it hit. Robert Hood, an incredible talent, delved into a live set that moved from new bangers to classics, building the floor into a throbbing mess.
After a bit of a rest and a shower, Mr Bill and I headed out for our after party. Detroit Love is the brainchild of headliner Carl Craig. But first we had the honor of listening to what was, from my perspective, "the set" of the festival so far and one of the most creative, versatile, and unique sets from the legendary Moodymann. He move from jazzy, dubby house to drum 'n' bass before digging into the Beatle's Come Together, using a crowd response as the bellowed "Over Me" to sneak in a track change, pulling it from classic pop to deep hip-hop right in front of your eyes. He hit Blue Monday by New Order, hitting on a Prince track, all while melding some disco and funk into the fold. As his set hit the two hour mark, it became clear that Carl Craig would not be performing. But Moodymann just kept that crowd banging it out. Back to the hotel by 4 and refueled now to head out for day 2.
Here it comes! Honey Dijon, Cajmere, Audion Seth Troxler, Adam Beyer… and that's just the beginning. This event is a marathon, not a sprint, and we are ready for the next level.