"Must See" Sets at Movement 2017
|
The festival line-up this year at Movement is fantastic. Don't you agree? In fact, I'm somewhat distressed about all the great acts that will be playing simultaneously. I sure wish that I could get this astral projection thing down so that I could be in two places at once. In fact, there are some time slots where I'd like to be four places at once… And that's just the acts that I already know.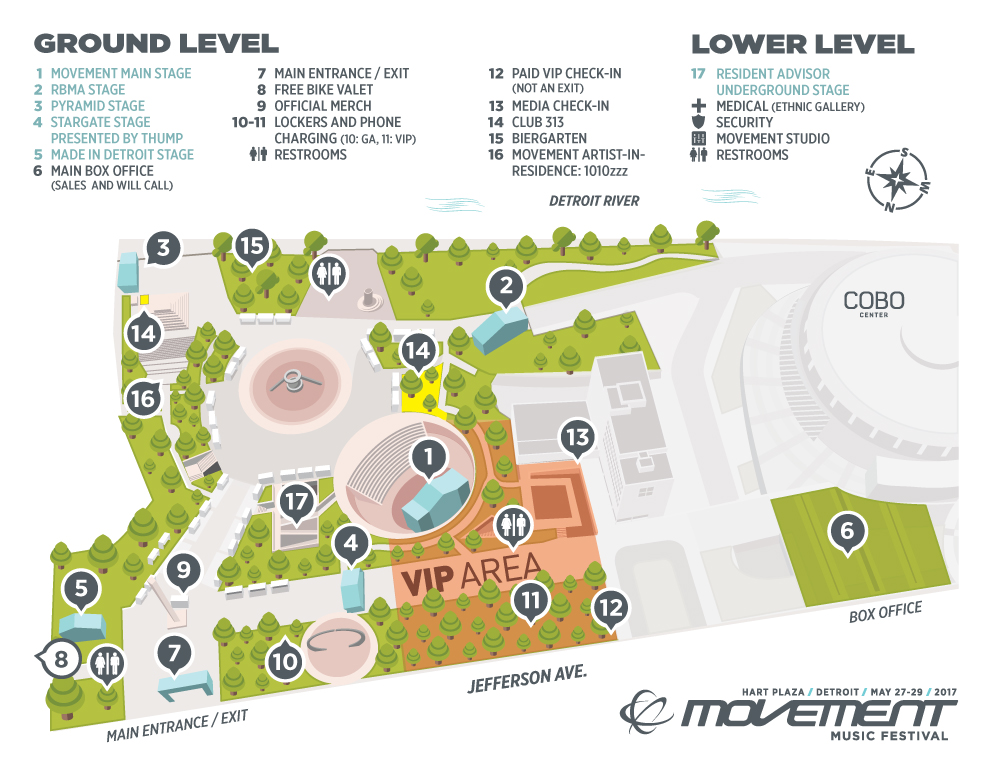 I've been attending Movement since 2007, and I always make a plan… but I never fully follow it. Instead, I usually wind up bumping from stage to stage, just staying wherever I'm feeling it.
I know that everybody's got their own favorites, but for the record here are some sets that I'm most excited to catch. If nothing else, I hope you enjoy listening to these as you prepare for your trip to techno mecca.
SATURDAY
AX&P (Adam X & Perc) on the Underground Stage on Saturday at 7:30pm. Both of these guys are hard as nails and creative as hell. I'm totally pumped to see them together. While I've never seen Perc perform, my friends raved about his performance at Further last Summer and I've been listening to him a lot ever since. Meanwhile, one of my all time favorite sets at Movement was Adam X as "Traversable Wormhole." Perhaps I was vulnerable at the time, but he truly blew my mind that weekend… This is my most anticipated set.
FYI – Here's a great brief profile of Adam X in the Resident Advisor "Three Cuts" series.
Pan-Pot on the Pyramid Stage at 9:30pm. The Berlin-based techno duo – Tassilo Ippenberger and Thomas Benelux – have been producing hot hot tracks and sets for over a decade… Maybe you can't get to Berlin for techno. Sometimes, Berlin will come to you.
Robert Hood (live) on the Pyramid Stage at 11:00pm. And yes, I know that Richie Hawtin is closing the Main Stage at the same time. But this is a live set by the originator of minimal techno for God's sake! . . . Well, maybe that's just me.
Here is a DJ set from a few years ago. (FYI – his after-party DJ set was one of my party highlights from Movement 2015.)
SUNDAY
Audion (live) on the Stargate Stage at 6pm. I'm a huge fan of Matthew Dear and want to see him again under his Audion alias.
Followed by Cajmere at 7pm. Chicago house!
Adam Beyer on the Main Stage at 8:40 pm. You can always count on great techno from the founder of Drumcode Records.
Kevin Saunderson as E-Dancer (live) on the Stargate Stage at 10pm. And yes, I also know that Deadmau5 is on the Main Stage as Testpilot at the same time… I'll probably stop over later and see what Deadmaus' "techno" identity sounds like.
Here, take a ride with "the Elevator."
MONDAY
Mathew Jonson (live) on Main Stage at 5pm. By now you've probably notice my preference for "live" sets. I love watching talented producers and hearing the truly unique sets that they produce for us live.
The best plan for Monday is probably to get situated at the Pyramid Stage and dance for the next 5 hours:
Recondite (live) at 7:30pm
Followed by: Paco Osuna at 8:30pm
Followed by: Chris Liebing at 10pm. (Of course! A techno master.)
I'm jacked to see the greats that I know and discovering talent that I've never heard.
Who are you excited to see?
See the full schedule here: movement.us/schedule