Pitchforkfest 2017 Must See Acts
|
One of the sweet things about the Pitchfork Music Fest is that it is so manageable – three main stages in close proximity with performances staggered so that not more than two are occurring simultaneously… and all the acts are legends or cutting edge.
This really cuts down the decisions that need to be made about "who to see." There's also no competition during the headliner sets. Everyone there will be grooving to LCD Soundsystem, A Tribe Called Quest and Solange.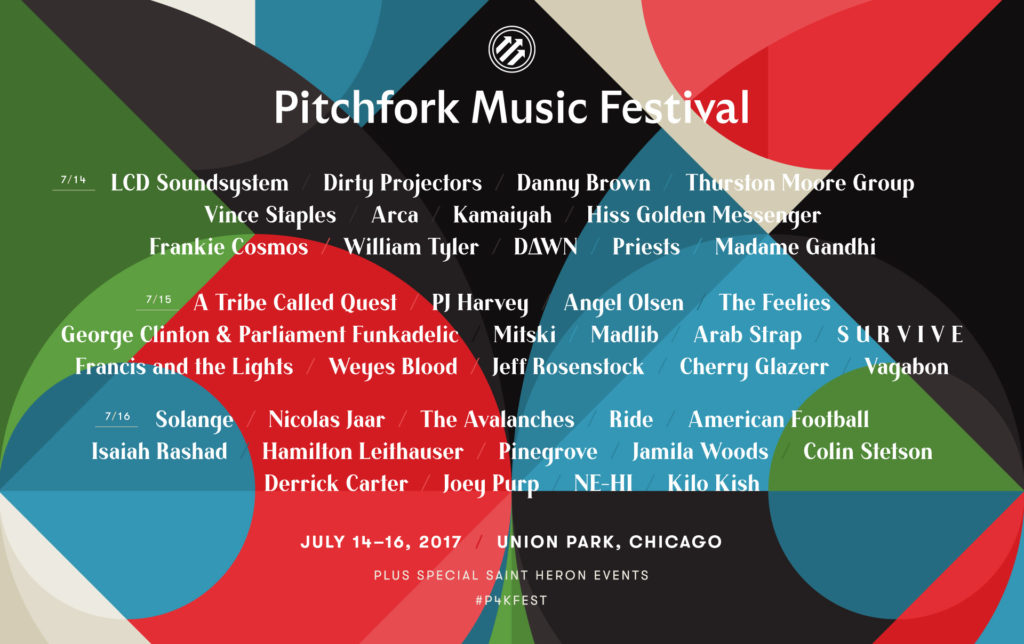 Here are the bands that I am most excited to catch this weekend:
FRIDAY, July 14:
Thurston Moore Group – loving their new album
Dirty Projectors
LCD Soundsystem – reliably one of the best shows you will see
SATURDAY, July 15:
This is going to be a full, full day!
Cherry Glazerr – we became a fan after seeing them open for the Flaming Lips; hot!
Arab Strap
George Clinton & Parliament Funkadelic
The Feelies
Madlib
PJ Harvey – super excited to see her
A Tribe Called Quest – LEGENDS!
SUNDAY, July 16:
Derrick Carter – Chicago House legend
Ride – this British band's 1990 debut album Nowhere has been named one of the greatest albums of the shoegaze genre by Pitchfork
The Avalanches
Nicolas Jaar – experimental electronic wunderkind
Solange – winner of the 2017 Grammy for Best R&B Performance; her third full-length album – A Seat at the Table – was recognized as the Best Album of 2016 by Pitchfork.
Here's the complete schedule: pitchfork.com/festival/chicago/schedule/
3-day passes are sold out; but single day tickets are still available. If you've not gotten your tickets yet, do not delay!