Recommendations for Movement 2015
|
Movement is such an incredible festival…  If you've not been there before, it offers six stages within close proximity but each with its own atmosphere and musical vibe.  You have to be able to find your groove at this festival, or you just don't have one.
Every year at Movement, we have the opportunity to see some of the legends work their magic in Hart Plaza; but we also get exposed to new talent that just slays the dance floor.  As I study this printable version of the 2015 schedule, I find that at any point in time there are at least two – and sometimes up to six – performers that I would love to see! … This is a good problem.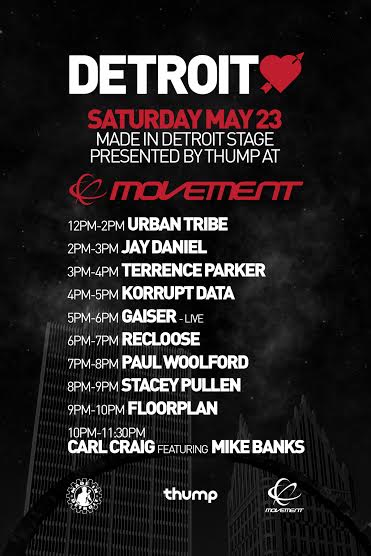 I will say that I am personally most excited about the entirety of the "Detroit Love Showcase" that Carl Craig has curated for the Made in Detroit Stage on Saturday, culminating in Robert Hood (as Floorplan) and then Mad Mike Banks performing with Carl.
But rather than recommend who you see, let me make this suggestion: Listen to some sets by artists that are unknown to you (we previously published some recommended links here) and highlight your schedule with people you'd like to see.
Then consider this plan to be a guideline only… and follow your bliss to wherever you are most feeling the "movement!"
Have fun… and hope to see you there.