Review: Bonnie Prince Billy Turner Hall
|
This was my first time seeing Will Oldham (aka Bonnie Prince Billy) … Fred turned me onto his music just a couple years ago – and I've been enjoying his back catalog ever since… BPB's slow-core folk-punk is intense, and I like that!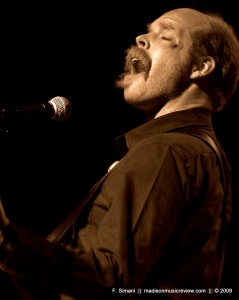 To me Will Oldham just a brilliant artist – a poet, a musician, and an actor – and of course, not a celebrity! Seeing him perform live was just amazing. He was like a man possessed by the music; quite authentically dramatic as you would imagine. I'm still buzzing days later!
BPB opened with "Sheep" and performed many favorites in this set, particularly from The Letting Go – an album that should certainly be required listening for those interested in Will Oldham.
The current Bonnie 'Prince' Billy band is outstanding and includes
Josh Abrams -bass,
Emmett Kelly -guitar,
Cheyenne Mize -violin and hauntingly beautiful vocals, and
Mr. Jim White -drums.
This was also my first show at Turner Hall in Milwaukee – a very cool venue with great acoustics and sight lines- well worth the drive from Madison! After the show, I saw a fan snag Cheyenne's setlist – here's what it looked like: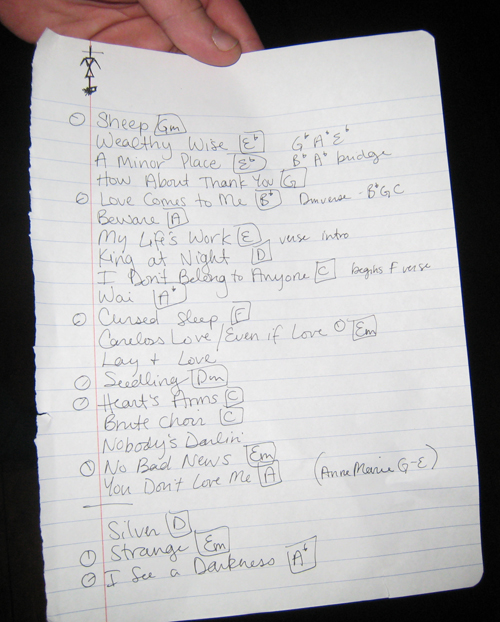 I'm curious about those dial icons in the left margin…
The night seemed charmed when I was able to buy the last copy at the merch table of getthefuckonjolly – a rare live recording from 2001 – where BPB collaborated with Mick Turner (Marquis de Tren) to put music to the beautiful devotional poetry of Bengali poet Rabindranath Tagore – India's national poet.