Rhythm Devils with Mickey Hart and Bill Kreutzmann – Tue., August 24, 2010 – The Pabst Theater
|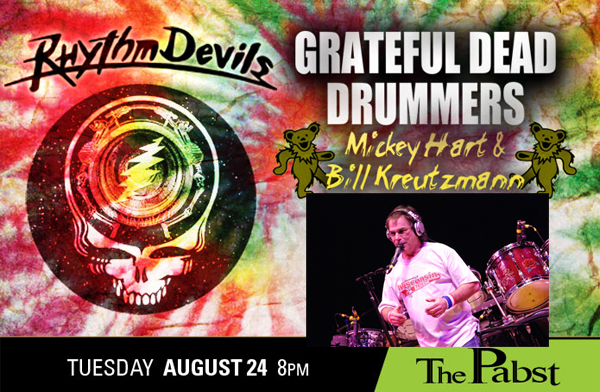 Event Details:

Rhythm Devils with Mickey Hart and Bill Kreutzmann

When

Tuesday, August 24, 2010

Where

144 East Wells Street
Milwaukee, WI 53202-3519

The Pabst Theater is an indoor concert venue and landmark of Milwaukee, Wisconsin, U.S. Colloquially known as "the Pabst", the theater hosts about 100 events per year. It is the fourth-oldest continuously operating theater in the United States, and has presented such notables as pianist Sergei Rachmaninoff, actor Laurence Olivier, and ballerina Anna Pavlova, as well as the majority of current big-name musical acts.

The Pabst is known for its opulence as well as its role in German-American culture in Milwaukee. It is officially designated a City of Milwaukee Landmark and a State of Wisconsin Historical Site, and was also designated a National Historic Landmark in 1991. [1] It is sometimes called the "Grande Olde Lady", being the oldest theater in Milwaukee's theater district.

Other Info

The beating heart of the Grateful Dead, drummers Mickey Hart & Bill Kruetzmann return with the deep grooving, globe spanning, polyrhythmic musical exploration that is the Rhythm Devils featuring a star studded array including vocalist/guitarist Tim Bluhm of the Mother Hips, Nigerian drummer Sikiru Adepoju, Davy Knowles from Back Door Slam and bassist Andy Hess.