SEUN KUTI + EGYPT 80 – Thu., April 12, 2012 – Memorial Union – Wisconsin Union Theater
|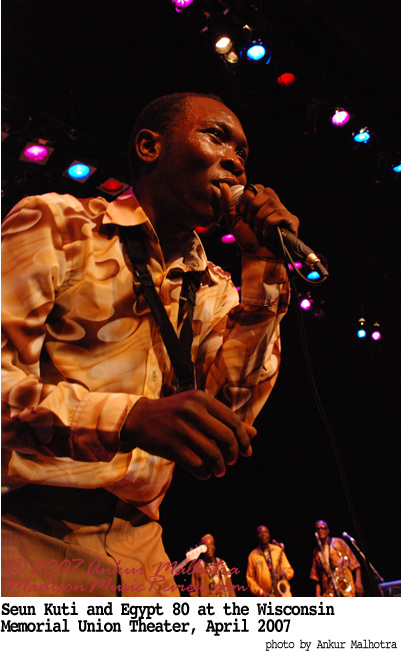 Event Details:

SEUN KUTI + EGYPT 80

When

Thursday, April 12, 2012

Where

Memorial Union - Wisconsin Union Theater (

map

)

800 Langdon St.
Madison, WI 53706

Other Info

Seun Kuti, youngest son of legendary Nigerian afro-beat musician Fela Kuti, leads his father's former band Egypt 80. Veterans of a quarter-century of Afro-beat nights, this band combines a tight brass section, incomparable groove of African percussion and voices, and pointed lyrics to create beautiful music with a purpose.

Seun began playing saxophone at age 8 and started as a backup singer for his father in Egypt 80 at age 9. He took over the band at age 15 after his father's death. Since then, Seun has continued his father's political and social message while adding his own perspective. "I want to make Afrobeat for my generation," he says. "Instead of 'get up and fight,' it's going to be 'get up and think.'"

Kuti absorbed more than lessons in funk from sharing the stage with his father; he adopted his father's fiery political spirit and unreserved fight on corruption. "The rich get richer and the poor get poorer. My album speaks to the people about our relationship with our rulers in Africa. People take a lot of things for granted, so this album is urging everyone to get involved and not think it's someone else's responsibility."