THE BLACK ANGELS w/ SUUNS – Wed., April 20, 2011 – High Noon Saloon
|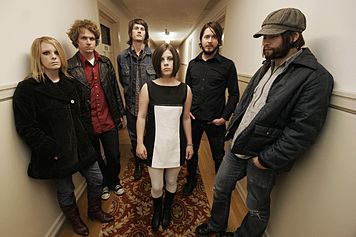 Event Details:

THE BLACK ANGELS w/ SUUNS

When

Wednesday, April 20, 2011

8:30pm

-

$15 cover / $13 advance / 18 and up /

-

18+

Where

701 East Washington Avenue
Madison, WI 53703-2958

Madison, WI

Other Info


From deep in the heart of Texas, armed with the home-grown mantra "Turn On, Tune In, Drone Out," The Black Angels ring real and rugged like a crimson full moon-lit night. Formed in May of 2004, the band's sanctified holy racket was breech-born out of life-long friendships drawn up in blood and sealed with a kiss. Their self proclaimed "Native American Drone 'N' Roll" genre has progressed from communal living and the members' eclectic upbringings.

Taking their name from the classic Velvet Underground tune "The Black Angel's Death Song," these Angels are far more than classic revisionists with extensive record collections. This is heavy-duty psychedelic rock with an incessant primitive beat that echoes the spirit of the 13th Floor Elevators and early Stones.

Suuns have no doubt ingested a lot of art rock, the Montreal group's minimalist rhythms are equally informed by Joy Division, Suicide and Can, often wrapped in a noisy squall of droning guitars and pulsing synths. Add to this Ben Shemie's breathy, paranoid sing/speak, and there are times that it seems like Suuns are about to drive over a sonic cliff. But there's actually a great sense of restraint at play.