The Flaming Lips w/ Stardeath and The White Dwarfs – Wed., April 21, 2010 – The Riverside Theater
|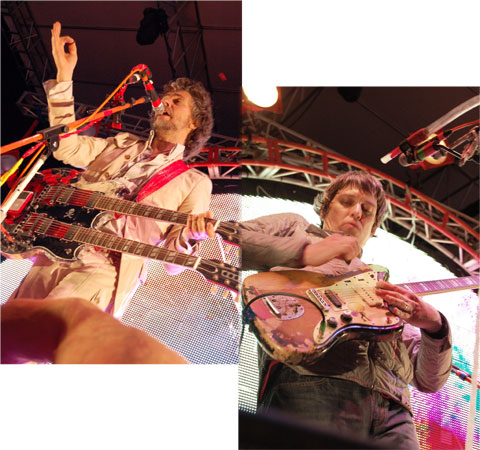 Event Details:

The Flaming Lips w/ Stardeath and The White Dwarfs

When

Wednesday, April 21, 2010

Where

116 W. Wisconsin Ave
Milwaukee, WI 53203

Other Info

The Flaming Lips will bring their standard truckloads of confetti and space-themed props to the Riverside Theater for an April 21 show, the venue announced this morning.

Though they could have been easily forgotten as '90s one-hit wonders for their fluke novelty hit "She Don't Use Jelly," The Flaming Lips rose to critical and commercial acclaim with a pair of vibrant, experimental albums, 1999's Soft Bulletin and 2002's Yoshimi Battles the Pink Robots. In the years that followed, they gained a particular reputation for their live shows, costume- and puppet-filled spectacles that made the group staples of pretty much every major outdoor music festival.

The Lips had toned down some of the subversive bite of their earlier work over the years, but last year the group returned with their edgiest, most challenging record in over a decade, Embryonic, their first double album. As a chaser, they offered a full-length album covering Pink Floyd's Dark Side of the Moon a few months later.